Exhaust Hood Cleaning Portland Maine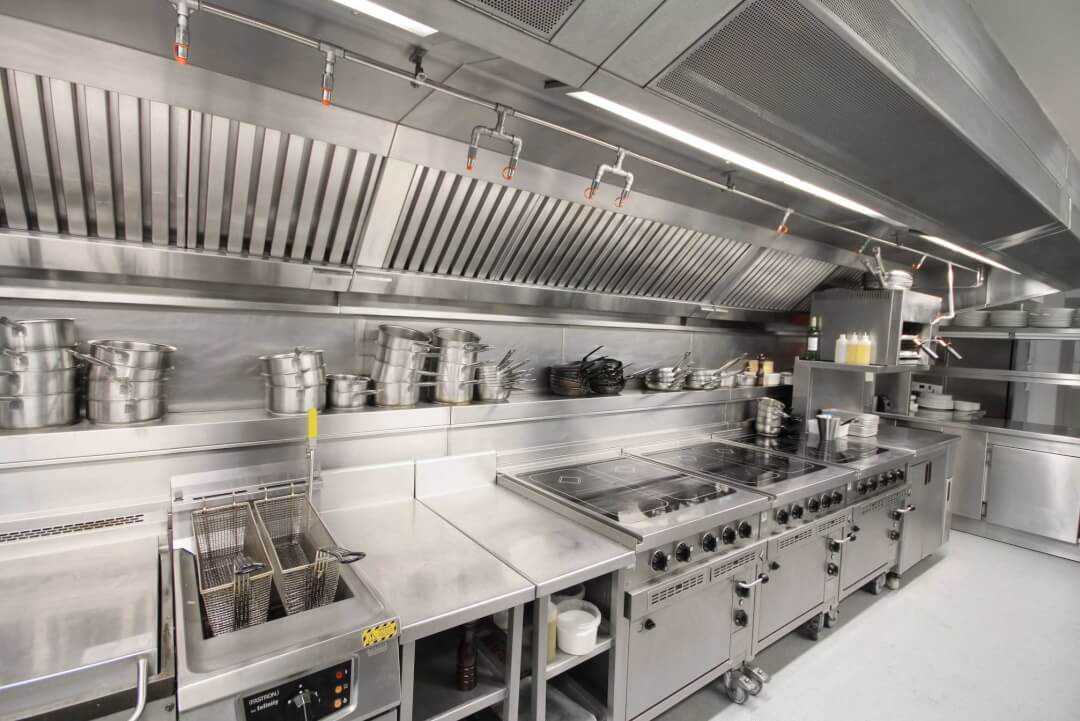 Does your restaurant kitchen have a funny smell?  It could be your exhaust hood, extractor hood or range hood needs a good cleaning.  The exhaust hood removes airborne grease, fumes, odors, combustion products, smoke, heat, and steam from the air by evacuation of the air and filtration.  Grease can build up in your hood which can lead to unpleasant smells and can create a fire hazard.  If there is a sudden spark on the stove or grill, a grease fire could take out your restaurant in minutes!  Not to mention how dangerous it is to your employees and clients.  Your insurance company may require you to show you have scheduled regular exhaust hood cleaning.
Kitchen exhaust cleaning (often referred to as hood cleaning) is the process of removing grease that has accumulated inside the ducts, hoods, fans and vents of exhaust systems of commercial kitchens. Left uncleaned, kitchen exhaust systems eventually accumulate enough grease to become extreme fire hazards.
Introducing your best friend for exhaust hood cleaning.
Portland Hood Cleaning Pros would be happy to schedule regular exhaust hood cleaning for your restaurant.  Our team will clean your not only the interior of the hood, they will scrub the shaft as well as the fan on the roof.  Our 100% satisfaction guarantee will keep you from paying for sub-par service.
We don't want you to close your restaurant at peek times so we will work around your schedule. Our team of professionals will clean, scrub and degrease your kitchen hoods.  Exhaust hood cleaning will make your equipment run at its top performance.  We use a specially purposed cover to protect your floor from stains while they clean a degrease your hood.
Our professionals will photograph before and after cleaning if you request it.  This will allow you to send the photographs to your insurance company to show you are on top of getting your exhaust hood cleaning done on a schedule.  In some cases, this has decreased the insurance for the restaurant owner.
 We do all commercial kitchens in the Portland, OR area.  We are not limited to restaurants, we also do schools, churches, hospitals and hotels; we clean any professional kitchen.
You want the best and yet you haven't called Portland Hood Cleaning Pros.
You ask, what will an exhaust hood cleaning cost you?  Pick up the phone today and call our team of professionals for a free estimate..  We have people standing by to get your restaurant clean and running at top speed.  Our phone number is (207) 290-4931.  Don't have time for a phone call?  Fill out an inquiry on our Contact page.  We promise we will get back to you within 24 hours.
---
Portland Hood Cleaning Pros proudly cleans your commercial kitchen top to bottom.
We are licensed, bonded, certified and fully insured for exhaust hood cleaning.
PORTLAND HOOD CLEANING




proudly serves Portland, Oregon.