Exhaust Hood Cleaning Portland Maine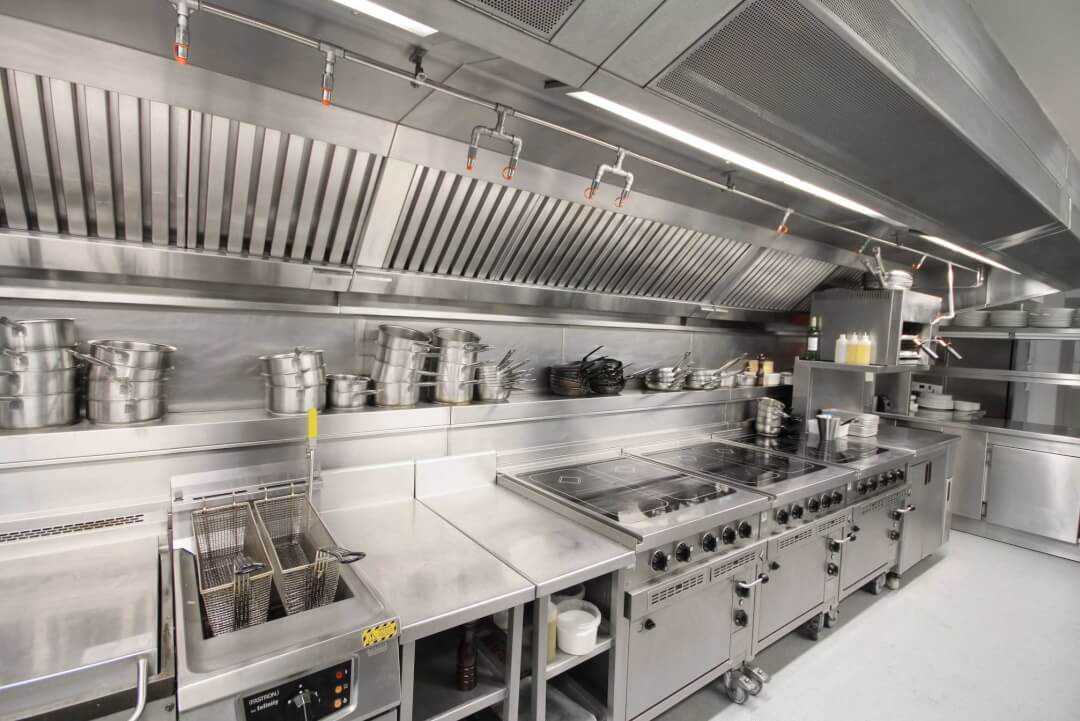 The process of kitchen exhaust system cleaning or hood cleaning should be done frequently to prevent grease build up.  If the kitchen exhaust is cleaning on a regular basis, most cleaning only need an application of a food safe chemical and hot water pressure washing.  However, if your kitchen has not been professionally cleaned, there can be a longer process.  First your professional cleaners will have to scrape much of the grease away before they use the chemicals and pressure washing.
It is important to have a kitchen exhaust system cleaning done because the build up of grease could cause a fire hazard.  Servicing is based on the use of the kitchen, for example, you have a private school that only uses the kitchen once a month, then you could look at getting the exhaust system cleaned semiannually to annually,  However, if you have a fish fry every Saturday night, you may want to look into getting the kitchen exhaust cleaned every other month.  Many commercial kitchens have their kitchen equipment cleaning professionally on a monthly basis.
Introducing your best friend for kitchen exhaust system cleaning.
Portland Hood Cleaning Pros is available for kitchen exhaust system cleaning 24 hours a day.  Once you have fed your last customer and sent your staff home for the evening, you can have our professionals come in and completely clean your kitchen.  This ensures you will be ready to go for business the next day with a clean kitchen and happy clients  Keep in mind that cleaning your exhaust system frequently will keep your equipment performing its best..
If your insurance company requires, we can photograph our kitchen exhaust system cleaning.  This gives you a solid record that you are properly maintaining your equipment to reduce fire hazard.  Many insurance companies give discounts when a restaurant is having a professional come in on a regular basis.
We do all commercial kitchens in the Portland, Maine area.  We are not limited to restaurants, we also do schools, hotels, hospitals, churches, food trucks and just about any place that has a professional kitchen.
You want the best and yet you haven't called Portland Hood Cleaning Pros.
Kitchen exhaust system cleaning does not have to be expensive.  Especially if you have your equipment cleaned on a regular basis.  Call is today at (207) 290-4931 for a free estimate.
---
Look to Portland Hood Cleaning Pros for your kitchen exhaust system cleaning.
We are licensed, bonded, certified and fully insured for kitchen exhaust system cleaning.
PORTLAND HOOD CLEANING




proudly serves Portland, Maine.