---
Commercial Kitchen Equipment Cleaning

Portland Maine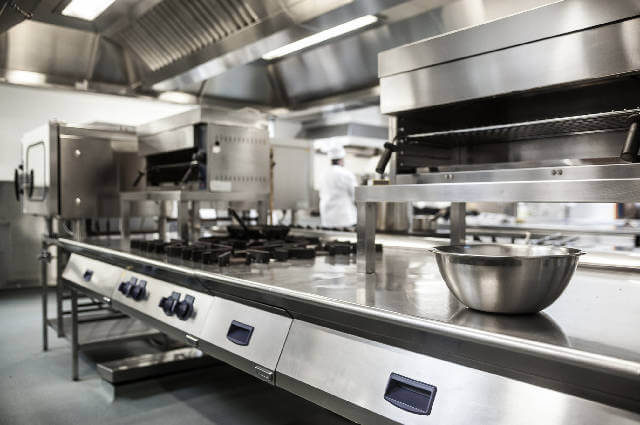 Commercial Kitchen Equipment Cleaning Service
---
Portland Hood Cleaning Pros isn't just an exhaust and hood cleaning company, we offer a total kitchen cleaning service.  Our commercial restaurant equipment cleaning business involves hood and duct cleaning. Equipment detailing and component replacement, cleaning of kitchen equipment and the servicing of restaurant's exhaust system.
Here's why you need us.
Grease and grime are a kitchen equipments worst nightmare. The build-up of grease and grime doesn't only reduce the performance of expensive kitchen appliances leading to potential losses, this build-up also poses a serious health and hygiene risk to both your employees and your customers. In some unfortunate instances, this build-up, especially around the hood and fan areas can also cause a fire to break out.
Luckily, we are here to help. Portland Hood Cleaning Pros is highly trained and adequately equipped to handle every task presented before it and can guarantee a total commercial kitchen equipment cleaning service. 
From the exhaust system to fan areas to the hood to the grills to cleaning all your equipment thoroughly to remove all the accumulated grease. Once our team is done, your kitchen will not only be germ-free and have a fragrant smell. It will be up to par with all health and safety regulations.
Portland Hood Cleaning Pros is the only company in Portland, ME that will also inspect your premises, at no extra cost, to ensure you have not violated any fire codes or regulations. We can also go the extra mile to conduct a 'drill' fire inspection for you. All the reports we give back will be part of your compliance records. This is great because you'll never have to worry about random inspection visits.
Whether you're looking for a one-time cleaning arrangement or cleaning on an ongoing contractual basis, we offer customized pricing packages for each client. So don't hesitate to give us a call (207) 209-4931 for a FREE QUOTE AND CONSULTATION or drop us a message using our contact form.
---
Once you do, one of our team members will meet you at the site of the project. They will gather information regarding all your requirements and then carry out a detailed survey of your exhaust system and all your kitchen equipment in order to prepare a tailored service suited to your needs. Visit our about page now.
---
All our technicians are licensed, bonded, certified and fully insured for commercial kitchen equipment cleaning.
PORTLAND HOOD CLEANING is the No.1 hood cleaning company in Portland, Maine.